Canon Nemio XG
Specifications
Request a quote
Description
Ask for availability
Please fill in the

contact form

for more information on availability on the Canon Nemio XG. In case it is not in stock we can source it for you through our network of trusted suppliers.
Request a quote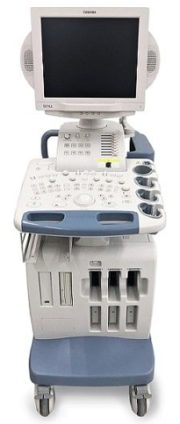 Canon Nemio XG – General Information
The Canon (former Toshiba) Nemio XG is a compact and mobile ultrasound machine that fits perfectly everywhere. The system includes applications such as cardiac, vascular, urology, abdominal, OB-GYN, small parts, and general imaging.
It is crucial to mention that its operation is fast which only needs a single button-push, and it boosts up within just a few seconds. Also, it has clinically validated technology for a fast and safe examination.
The Toshiba Nemio XG has a 15 inch high resolution monitor with a flat screen. On top of that, the premium package offers options of shared service with an LCD monitor on an articulating arm. This ultrasound brings good image quality with an solid resolution and sensitivity.
Moreover, the Nemio XG can store clinical data to hard disk, DVD, USB or network drives in both DICOM or PC. Hence, it creates an easy to find and access of patients' data.
Overall, it is an ultrasound that can adapt to clinical needs as well as individual preferences to keep the smooth workflow. The Nemio XG ultrasound is a great and easy to use machine that can ease clinical processes.
The Nemio XG ultrasound's transducers need great care in order for them to last long. Hence, we recommend you to read a blog post about how to protect your ultrasound probes.
To learn more about the costs of pre-owned and refurbished ultrasound machines, visit our page and watch our video about the ultrasound system price range.
Contact LBN Medical for any requests or questions regarding medical imaging equipment.
Request a quote
Request a quote for the Canon Nemio XG
LBN Medical is here to serve. Please fill out the contact form below and we'll get back to you as quickly as possible.