Siemens Somatom Sensation 16
Specifications
Request a quote
Description
Ask for availability
Please fill in the

contact form

for more information on availability on the Siemens Somatom Sensation 16. In case it is not in stock we can source it for you through our network of trusted suppliers.
Request a quote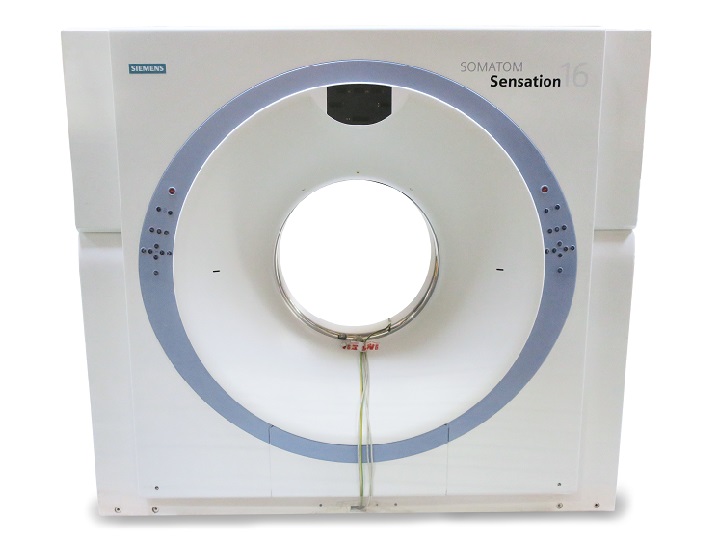 Siemens Somatom Sensation 16 – General Information
The Somatom Sensation CT line from Siemens has been a success worldwide. It includes for instance, the Somatom Sensation 16 and the Somatom Sensation 10. They are very alike, however, the Sensation 16 naturally has 16 slices instead of 10. Moreover, there is the optional feature STRATON that includes a faster gantry rotation speed of just 0,37 seconds.
The product line provides great technical capabilities for a range of clinical applications. Therefore, the Somatom Sensation 16 is a good option if you need brilliant images that are easy and fast to obtain. It has several options that will secure good images and hereby, precise examinations.
The CARE Dose4D achieves images at the lowest possible dose, independently of the size and anatomy of the patients. A dose reduction of up to 66 % is achieved through fully automated dose management. This is more important than ever with the increased focus on patient safety and new regulations on the area, including the Euratom 2018.
The syngo application platform makes the Somatom Sensation 16 intuitive to operate and its common look is a part of the unique multi-modality interconnectivity of Siemens. Ease of use is further enhanced by the fully integrated WorkStream and the advanced evaluation tools. The former helps clinicians take full advantage of the capabilities through integrated scan and exam protocols. The latter allows fast, 3D-based semi-automated viewing, analysis, and quantification.
Furthermore, the Somatom Sensation 16 has a number of optional features that will further extend its capabilities. For instance, the Speed4D Technology, that is a package of features that will enable faster imaging speed and even more applications and workflow management tools.
All in all, it is a good and budget-friendly Siemens CT scanner that will cover basic needs.
Request a quote
Request a quote for the Siemens Somatom Sensation 16
LBN Medical is here to serve. Please fill out the contact form below and we'll get back to you as quickly as possible.