Siemens Mammomat Novation DR
Specifications
Request a quote
Description
Out of stock
Siemens Mammomat Novation DR is not currently in stock – Contact us for info on next available system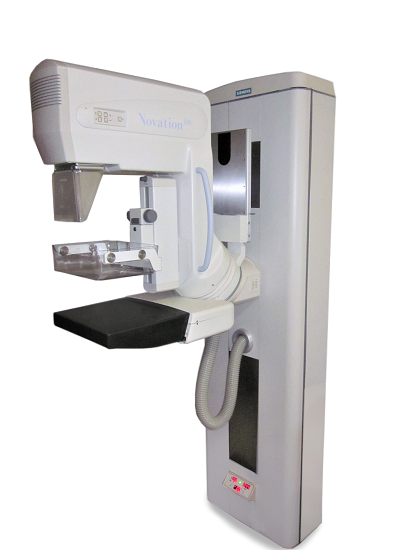 Siemens Mammomat Novation DR – General Information
Siemens Mammomat Novation DR is a digital mammography scanner. It has a number of innovative features dedicated to ensure early detection of breast diseases, for instance cancer. It ensures fast diagnosis and is convenient and comfortable to use, this decreases the discomfort often associated with mammography scans.
Early detection requires outstanding image quality, and the Siemens Mammomat Novation DR has the technology to provide this. It includes Tungsten technology, and dual anode technology. This tube has three filter combinations that matches breast density and thickness. This combined makes sure that even dense breasts are examined with short exposure times.
Furthermore the Direct-to-digital technology further improves image quality. This is due to the fact that the electrical signal is generated directly from the flat panel, without any intermediate steps. This also gives better x-ray absorption, enabling the Siemens Mammomat Novation DR to detect smaller and low-contrast objects. Software further improves image quality. Algorithms provide outstanding visibility of the breast border and structures, but also of micro-calcifications and masses.
The Siemens Mammomat Novation DR is designed to maximize patient comfort for instance – the flat panel detector has rounded edges. Furthermore, the patient and operator access is effortless and scanning patients positioned on a table, or in a wheelchair is no problem. It also features the OpfocusTM compression plate that allows central positioning of the breast, resulting in a more efficient use of the detector area. It also enable the machine to scan a larger part of the pectoral muscle.
The Siemens Mammomat Novation DR also have technologies that manages and adjust the compression of the tissue and the dose. The excellent workstations dedicated to this system allow extensive processing and analysis of the images, including comparisons of earlier examinations.
Request a quote for the Siemens Mammomat Novation DR
LBN Medical is here to serve. Please fill out the contact form below and we'll get back to you as quickly as possible.